5 GENERATIONS OF EXPERIENCE
DOMESTIC AND INTERNATIONAL CLIENTS
OVER 90% PREGNANCY RATE
EXPERT HORSEMEN ON DEDICATED WATCH
Located in the heart of the Bluegrass, our farmland boasts up to 20 feet of prized Maury Silt loam topsoil. Our fields and paddocks are either spring or well fed with naturally chemical free water. The top Kentucky breeders of the "golden age" said that the best horses were raised on the best soil with the highest quality water. We raise all our own alfalfa hay and bed our stalls on the top quality bluegrass also harvested at Millford. This offers an unequaled environment for the finest care of thoroughbreds. Combined with Millford's expert horsemen on dedicated watch, you're assured a smooth and professional boarding experience.


A Tradition of Success

Telephone: 859-846-4705 Fax: 859-846-4226
PO Box 4351
377 Weisenberger Mill Road
Midway, KY 40347
Telephone: 859-846-4705 Fax: 859-846-4226

QUARANTINE
<![if !vml]>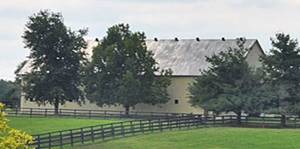 <![endif]>Our quarantine division is highly respected around the world.



Since 1985, the farm has been one of the leading Pre-Export Quarantine (PEQ) facilities in the United States exporting Thoroughbreds and many other breeds to countries such as India, Australia, China, Russia, South Africa, Europe and South America.
We are a USDA inspected and approved facility that caters to all the needs of horses shipping abroad to assure they arrive at their destination in the best condition possible. At Millford Farm we are proud of the care we can provide and pride ourselves on the special attention each horse receives during their stay.
Having handled quarantine procedures for many international clients, Millford's staff is entirely familiar with the shipping process, government requirements and health regulations for all countries, as well as the process of maintaining the individual horse in top condition.


Examples of horses leaving Quarantine going to our International clients: