5 GENERATIONS OF EXPERIENCE
DOMESTIC AND INTERNATIONAL CLIENTS
OVER 90% PREGNANCY RATE
EXPERT HORSEMEN ON DEDICATED WATCH
Located in the heart of the Bluegrass, our farmland boasts up to 20 feet of prized Maury Silt loam topsoil. Our fields and paddocks are either spring or well fed with naturally chemical free water. The top Kentucky breeders of the "golden age" said that the best horses were raised on the best soil with the highest quality water. We raise all our own alfalfa hay and bed our stalls on the top quality bluegrass also harvested at Millford. This offers an unequaled environment for the finest care of thoroughbreds. Combined with Millford's expert horsemen on dedicated watch, you're assured a smooth and professional boarding experience.


A Tradition of Success

Telephone: 859-846-4705 Fax: 859-846-4226
PO Box 4351
377 Weisenberger Mill Road
Midway, KY 40347
Telephone: 859-846-4705 Fax: 859-846-4226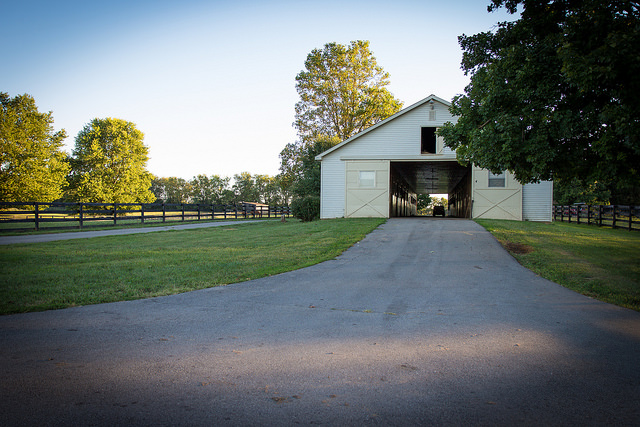 BOARDING
Millford is a farm for all times. Family owned and managed by generations of horsemen dedicated to tradition and innovation that has created champions. To make a champion takes time. At our farm we nurture your investment. The balance of tradition and innovation, the expertise and professionalism of our staff come together on our exceptional land in a farm that allows your investment to flourish.

At Millford Farm horses are not a sideline, and we have had to make the farm pay for itself every year. While others give lip service to tightening their belts or watching their pennies, we were always cautioned to be penny wise by Dr. Smiser West, who was renowned for his frugality. Even the day after he had sold a million dollar yearling, he could be heard chiding someone for some perceived wasteful practice. At the time, it might have seemed excessive, but now years later we have seen many other farms close their gates and the wisdom of his conservative ways is apparent. Dr. West's years in agricultural pursuits, (he was running a dairy while attending high school, and later developed a much-admired Angus herd), taught him that throwing money at an animal was no substitute for conscientious management.

Lessons we have learned about what is important to raising a good horse allows us to provide your horse with the best of care at a day rate that won't break you. Our industry is based on hope in the future, respect for the past with a focus on the present that will allow your investment to flourish.

Call (859) 846-4705 or email (rwestjr606@aol.com) Bob West today and visit Millford Farm to discover how your business sense will have as good a home as the horse will.